Old Fashioned Raisin Bars Recipe Clipping « m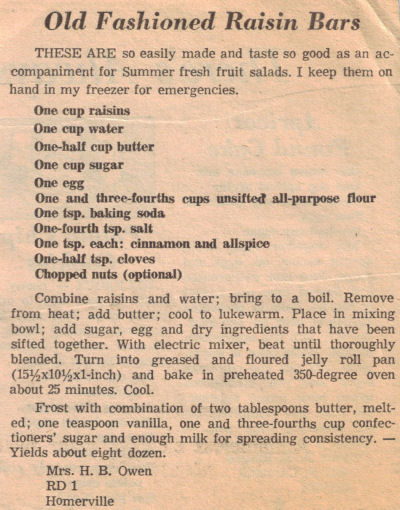 About a week ago I got onto the subject of church lady food – finger sandwiches and dainties of the I remember the small group of elderly ladies assembling on trays for my grandma's funeral out in Ontario years ago, and I imagine have done on many occasions since – and it was decided that we should have a church lady-style wake for David Bowie. It was a pretty great way to spend a snowy Saturday night in late January.
Late last year we assembled a sort of a cookbook club and called it Bite Club – it's like traditional book club, only with food and cookbooks – isn't the food the best part of book club anyway? So that was the group who came and brought egg and ham salad with pickles and mayo and the crusts cut off, cherry-cream cheese pinwheels, funeral potatoes, custard and lemon and Bakewell tarts, cookies and Shepherd's pie and gingerbread, and an enormous tight pants peanut butter pie in homage to the Goblin King (and in reference to the state of our own post-pie pants).
We made a cocktail – an enormous jar of it – of Pimm's, ginger ale and loads of sliced oranges and limes and called it the Golden Years. There's no reason Pimm's should be limited to its summery cup, decked out with strawberries and cucumbers – citrus is in season and at its best, and gin-based, herbal Pimm's pairs perfectly with it.
I went a little bar-happy with date squares (known in my grandma's cookbooks as Matrimonial slice, which is kind of the opposite of funerals, but let's just go with it), Nanaimo bars, marshmallow confetti squares and these old-fashioned raisin bars my grandma used to make, which are really like butter tart squares with a slightly tweedy oatmeal base, and are easy to serve in lieu of funeral pie – a brown sugar and raisin pie that was probably made in the bleak midwinter when there was no fresh fruit about, which is likely why no one seems to make it anymore.
These aren't quite as gooey as a (proper) butter tart, but could be more so if you were to replace some of the brown sugar with Roger's golden syrup (my preference to corn syrup) or even maple syrup. And if you're a no-raisins-in-my-tarts kind of person, go ahead and swap pecans, which would make these akin to pecan pie bars. And here's a tip: if you freeze any kind of sticky-topped bar first, they cut much more cleanly – and thaw in a few minutes on the countertop.
Ingredients
Base:
1/2 cup oats
1/2 cup all-purpose flour
1/4 cup packed brown sugar
1/4 tsp. baking powder
pinch salt
1/4 cup butter, cut into pieces
Topping:
1 1/2 cups packed brown sugar
1 Tbsp. all-purpose flour
2 large eggs
2 Tbsp. butter, melted
1 tsp. vanilla
1- 1 1/2 cups raisins
Directions
1Preheat oven to 350°F.
2
3In a medium bowl, or the bowl of a food processor, combine the oats, flour, brown sugar, baking powder and salt. Add the butter and blend with a fork or your fingers (or pulse in the food processor) until well combined and crumbly. Press into the bottom of a parchment-lined 8x8-inch pan and bake for 8-10 minutes, until pale golden around the edges.
4
5In the same bowl (no need to wash it) stir together the brown sugar and flour. Add the eggs, butter and vanilla and stir until well blended and smooth. Stir in the raisins and pour over the base.
6
7Bake for 25–30 minutes, until golden and set around the edges but still just slightly jiggly in the middle. Cool completely in the pan on a wire rack before cutting into squares.
8
9Makes 12 bars or 16 squares.
close full screen
Old-Fashioned Oatmeal Raisin Bars Recipe Taste of Home
Raisin Spice Bars With Icing Recipe - The Spruce Eats
Old Fashioned Raisin Bars Recipe - SheKnows Recipes
Grandmother Brinton s Raisin Bars - Martha Stewart
Raisin Bar Sheet Cake Recipe - Genius Kitchen
Old Fashion Raisin Bars - Recipes - m